Did you know the Brazilian gaming market is among the fastest growing in the world? Its numbers show what a great opportunity it is to invest in this business in the country as to take advantage of such growth.
Gamers are everywhere, including in Brazil. However, the country's specifics make it an attractive business opportunity to take advantage of its numbers. After all, Brazilian gamers are engaged with the medium and willing to spend money on it.
Below, you will learn everything you need to convince yourself about the potential for investing in the Brazilian gaming market. Check it out!
Brazilian gaming market in numbers
The Brazilian gaming market offers great opportunities for outside investments because it is in a clear growing curve. For example, in 2021, it had a revenue of US$ 2.3 billion, marking a growth of 5.1% in relation to the previous year.
Also according to market consulting firm Newzoo, Brazil is the number one gaming market in Latin America and 12th in the world in terms of revenue. Additionally, based on a survey by PricewaterhouseCoopers, it is expected to grow 5.3% by 2022.
However, it is also important to learn about this market's adoption rate among Brazilians. Newzoo's study showed that 70% of the population plays games, especially mobile ones. In addition, 63% of these people have the habit of spending money in online games.
The Brazilian gamer
Learning about the average Brazilian gamer will help you see the best opportunities in this market. For example, according to Pesquisa Game Brasil, 33.2% of players spend money on virtual currency, beating all other kinds of choices.
Additionally, they like showing everyone they are a gamer. Data from the same survey shows that 37.4% of players like buying gaming-related clothing.
Lastly, as you know, the smartphone is king when it comes to the Brazilian gaming market. Also, 60.4% of that audience consists of women. Around 48.1% of these players have downloaded a game because of a streamer or influencer's recommendation.
The top business opportunities in the Brazilian gaming market
As you can see, the Brazilian gaming market is ripe with opportunity for businesses from outside its borders. You simply need to plan your proposal around the right chances given to you in this ever-changing medium.
Below, you can see how Brazil's gaming numbers translate into quality opportunity for investment. Check them out!
In-game purchase facilitator
A majority of gaming services still do not support payment methods popular among Brazilians. This makes it harder for plenty of its audience to spend money in this market, this also means a great opportunity for your business to act as an intermediary.
This means seeking a partnership with the big publishers in the business. By investing in facilitating in-game purchases, you can offer a service highly desired by players while contributing to your own revenue.
Gaming gift cards sales
Another great way to invest in the Brazilian gaming market is to sell gift cards for the most popular games and platforms. Brazilian gamers might desire to set a budget on their spending or simply want to spend money on in-game transactions while using their preferred payment methods.
Most big games nowadays have a gift card system. Businesses such as virtual and physical stores can offer them while providing a quality user experience to Brazilian customers.
Streamer and influencer sponsorship
Just like the Brazilian gaming market is growing, so is the streamer and influencer segment that is related to it. Therefore, your brand might get a boost in its exposure by sponsoring the most relevant players in this field.
Brazilian gaming streamers and influencers gather a wide public that might translate into customers to you if the right partnership is set. Make sure to carefully study their audiences to find the option that fits your business goals the best.
How to invest in the Brazilian gaming market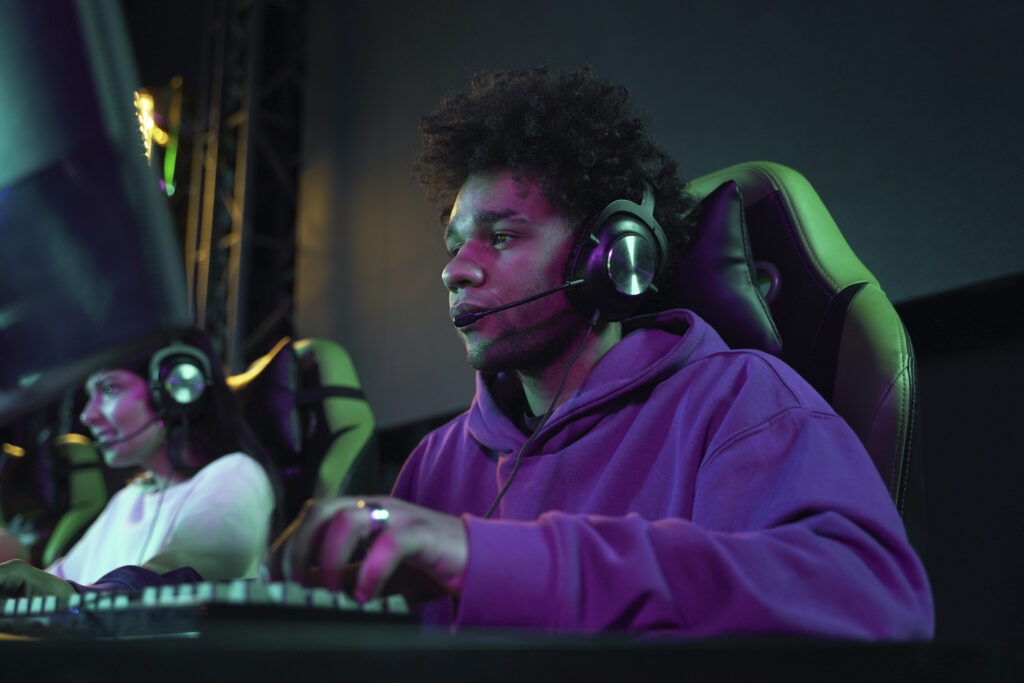 Now that you know about the advantages of investing in the Brazilian gaming market, you should plan accordingly to take all the right steps. After all, this is a business venture that requires proper consideration to make the correct decisions.
Here are the most important steps you should take when deciding to invest in the Brazilian gaming market.
Understand you consumer's needs
Brazilian customers have specific preferences that you need to consider before you draft your business proposal. Not doing this means going in blind into this venture.
You should seek trustworthy data on this to really add value to your idea. Make sure to listen to gamers, learn about their struggles and see the gaps that might turn into opportunities for your business.
Offer the appropriate payment methods
Brazil has unique habits when it comes to paying for goods and services. For starters, internationally-enabled credit cards are not the majority, while a new instant payment system is rapidly gaining ground — Pix.
Therefore, in order to appeal to Brazilian audiences, you need to offer the payment methods they expect. This will lead to an increased revenue and a more positive customer experience.
Localize your customer service
While technology allows for a remote approach when it comes to investing in the Brazilian gaming market, you should be careful when it comes to the customer service. A locally-based solution that understands Brazilian's needs and expectations will make a huge difference to the experience.
After all, dealing with payments and transactions is not foolproof. There will come a time when your customer will need customer support and its effectiveness will be essential to their satisfaction.
As you have seen, the Brazilian gaming market is full of opportunity for strategic business proposals. With games becoming more and more popular, you can take the right chances to increase your revenue while exploring the best ways to add value to gamers' experiences. Simply take note of this article's tips and start drafting your business plan.
Do you have any remaining questions about the Brazilian gaming market? Then, leave a comment and ask anything you need!